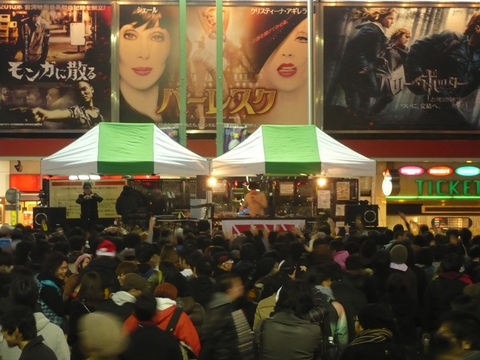 You may know one of Japanese animations "Koukyoushihen Eureka Seven". It had been broadcasted on TV for a year, and had also been broadcasted entitled "Eureka Seven" in the U.S. Five years have passed since this TV program already finished. I'll tell you a story about events that related in this animation.
No sooner had "Eureka Seven" started than it became a popular topic on the web and seized many fans' hearts. As you can see, words like "Blue Monday", "KLF", "SL-1200Mkll0" were used in titles or machines' names with the movie, and then in club music inspired by the movie. That's why it didn't take long for fans to decide to hold a music themed event related to Eureka Seven.
The first event was small and held by fans. However, it has become larger over years. An event held two years ago was a big party attended by over five hundred participants. Tomoki Kyoda, who is director for the movie, also joined the event as a DJ because it was considered officially the "last" event.
However, all fans who were there knew that another "last" event was planed because it was notified there. The event, an open air GEKKO NIGHT RAVE, was supposed to be held at the center place of Shinjuku district (like Times Square in New York.) Unfortunately, it got cut off just before since Tokyo is difficult to control. It seemed unlikely that it would be rescheduled.
However, a year and a half later, an organizer of GEKKO NIGHT was asked about holding an event in Shinjuku shopping district. Although there wasn't enough time to prepare, the DJs who were supposed to run GEKKO NIGHT took charge and organized an open air daytime rave. It wasn't GEKKO NIGHT but "Re:animation". Around a thousand people enjoyed the event on that day. It was a big festival of anime and club music. I already posted an upstream in a facebook & twitter account about the event. The view of upstream drew over 2,200 views, which was NO.1 in real time.
Surprisingly, after the event the place didn't need to be cleaned out because there was no trash at all. What exemplary behavior! You can check out videos and pictures on the official website. I also took pictures. I hope you enjoy them.
I wish I could experience fan events like this in other countries!